on
June 10, 2015
at
11:51 am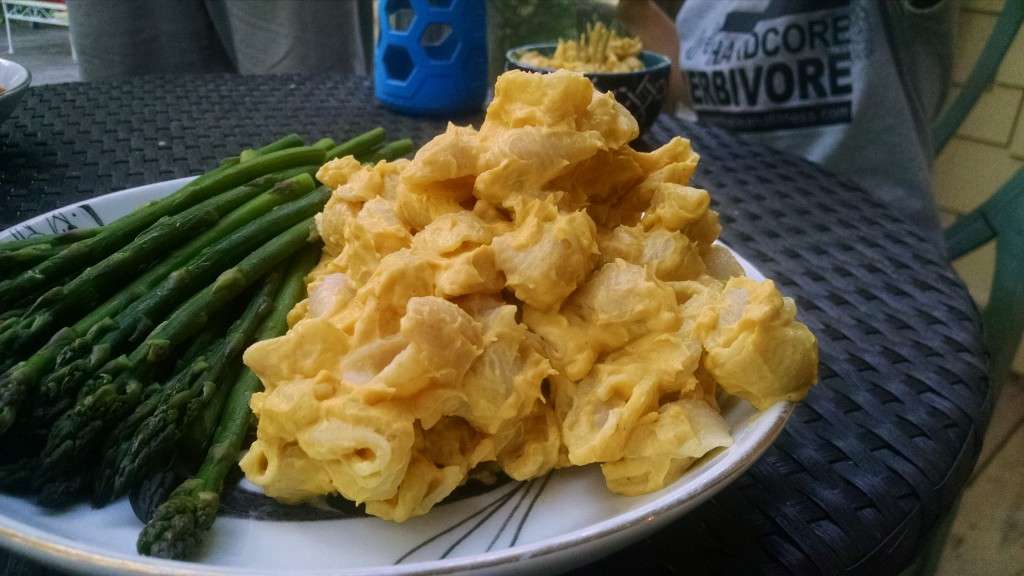 I grew up on Kraft macaroni and cheese (unfortunately), and have never stopped loving creamy pasta dishes over my 14 years as a vegan. I have created many variations on this theme – lots are archived under the recipe index – but this is by far my favorite. It has all of the richness and creamy texture you could ever want, and even makes awesome baked macaroni and cheese appetizers when portioned into muffin cups!
I never measure ingredients for this, I'm afraid, so the portions are somewhat inexact but the recipe is very forgiving. Note that if you do not have a high-powered blender you will either need to, ideally, soak the cashews overnight in water or blanch them in boiling water at least. This prevents them from having a grainy texture when blended.
Rich, Creamy, Yellow Mac and Cheese
8 ounces brown rice pasta
2 small yellow potatoes, quartered
1 carrot, quartered
1/4 cup raw cashews (soaked in advance or blanched if not using a high-powered blender)
8 ounces firm or extra firm tofu
cube of vegetable bouillon (I use Rapunzel brand with herbs and sea salt)
about 1-2 tsp garlic powder
about 1-2 tsp onion powder or flakes
dash turmeric
Steam the potato and carrots for about 15 minutes, until tender and boil the pasta according to package directions. I like to add some chopped broccoli to the boiling water a few minutes before cook time is up. Once the pasta is done cooking, drain and rinse with cold water so it doesn't continue to cook to mushiness.
Meanwhile, blend the cashews first with just enough water to cover – it should have a cream consistency. Add remaining 5 ingredients and blend for a good minute or so. You may need to use the tamper to mix it up or, if you don't have a high-speed blender – add a tiny bit of liquid. It should be thick and creamy!
To put it all together, I warm the sauce in the pot over medium-low heat, add pasta (and optional broccoli) and heat through.
That's it!