Katy Gained Muscle and Strength on a Vegan Diet
In July of 2013 I made the big decision to transform my life. I embarked on a weight loss journey and with the help of a trainer I lost 100 pounds through a primarily whole foods diet and exercise. In March of 2014 I decided to become vegan mainly because my body reacted best to a whole food, plant based diet. Throughout this process I became a fitness addict so to speak and fell in love with exercise but mostly lifting weights. I decided I wanted to become a bodybuilder, but not just any bodybuilder. I have worked very hard over the years to cleanse my body of many toxins, including alcohol. Steroids or any other supplement that would be added to my body just didn't appeal. I wanted to be a vegan bodybuilder. So, I went searching online and Derek Tresize of Vegan Muscle and Fitness' program caught my eye. We started at the end of August and finished in November in a 12 week program. He guided me with the lifts/nutrition and I provided him with my feedback along the way. My results using a whole food plant based diet simply amazed me. Yes, it's a lot of work, but the results speak for themselves.
August 2014     November 2014     Change
Squat                          165                            235                  +70
Deadlift                      135                           205                  +70
Bench press             125                            135                  +10
Body weight             153                            157                    +4
Body Fat%                21.5                        16.86                -4.64
As a result I gained 11 pounds in lean body mass and lost 7 lbs of body fat. Whoever thinks that vegans can't build muscle using whole foods hasn't tried it the right way. This hardcore herbivore will never go back to a carnivore status. Not only is it the right thing to do, but it's a compassionate way of living as well.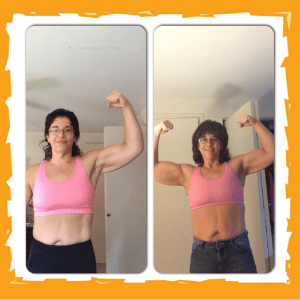 Max's Client 12 Week Body Transformation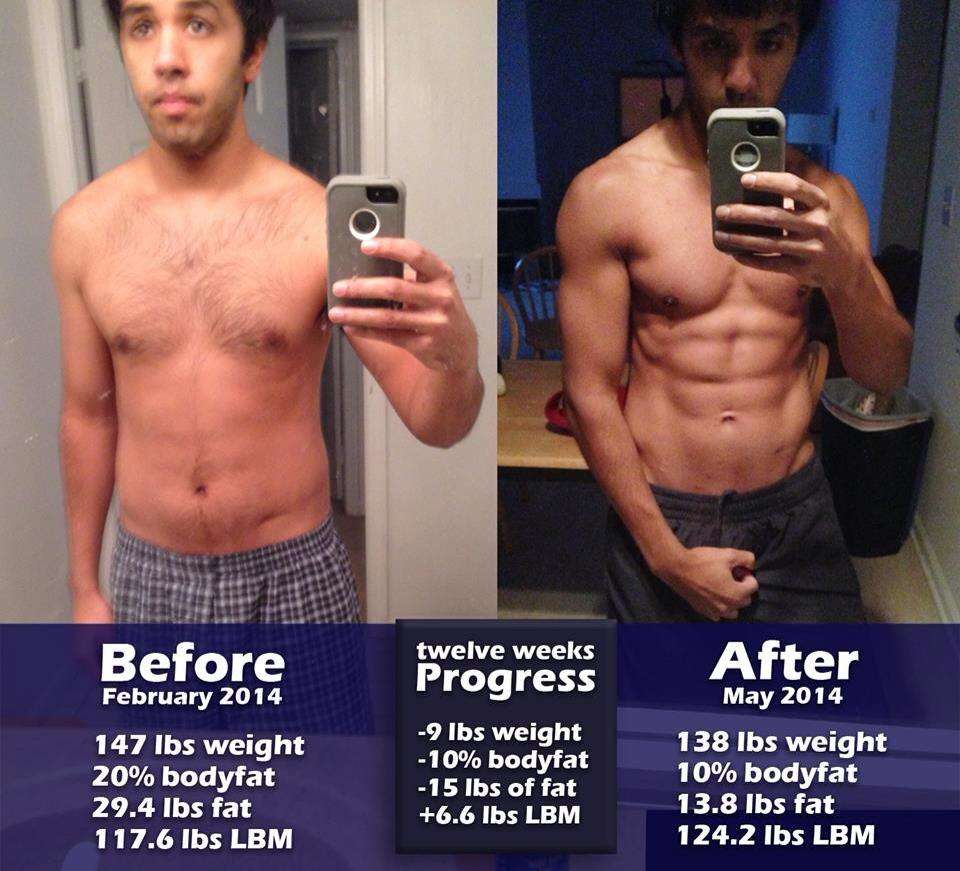 Mic McConnell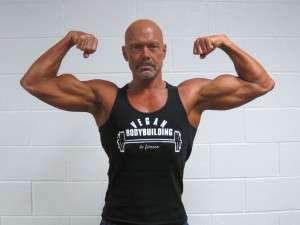 I turned 50 in February, 2012 and had been vegetarian for about two years.  Although I had competed in drug-free bodybuilding in the past, for two years I had been focused on long-distance, open water swimming.  I was in good shape, but I was not in bodybuilding shape.  To mark my 50th birthday and my new, vegetarian lifestyle, I decided to enter my first bodybuilding contest in 7 years.  I knew I would have to rebuild muscle that I had lost to long hours of training swims, and I had never built muscle or tried to burn fat on a vegetarian diet before, so I decided to get expert help.  My wife found Derek on the internet and gave me his contact information.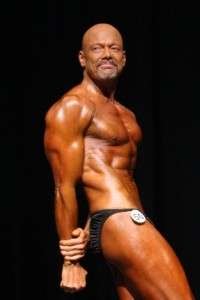 I emailed Derek and we met for the first time at his Manchester studio on April 13.  We discussed my age, relatively recent conversion to vegetarianism, bodybuilding and swimming background, and goals for 2012.  I decided on the spot to hire Derek to train me for a contest.  We made plans to begin working out together right away.  Although we originally considered a contest in early August to be a possibility, we soon decided it would be best to wait until a November contest.
Derek started me on a power building program designed to build muscle, and combined that with a anabolic vegan diet.  I worked out with Derek at his studio every weekday for two weeks, to get a feel for his workout style and to learn new movements that had not been part of my regimen.  After the first two weeks, we met once a week (5:00 a.m. Mondays!) to review my diet and to work HARD.  Derek emailed me workouts so I could do the remaining workouts on my own.
We decided I would compete on November 17, 2012 at the Mt. Rogers competition, a drug-free, polygraphed show put on by the National Gym Association in Woodbridge Virginia.  I started my fat-loss diet at the end of August – 12 weeks out from the contest.  At that time, I weighed 190 lbs (I am 5'10").  We continued to meet once a week, review my food intake and work hard.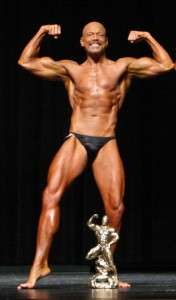 As the weeks progressed, we tweaked the diet, maintaining it as 100% plant-based, and adjusted my cardio to assist in fat burning.  By the week before the contest I weighed 172 lbs.  The last week I focused on water loss to improve muscle definition, and on contest day I weighed in at 160 lbs.
Overall, I was very happy with my presentation.  I had gained considerable muscle under Derek's training, and he had guided me to a lean physique in the end.  In no way was being meatless a hindrance or an obstacle to my progress, with building muscle, with burning fat, or with retaining muscle while building fat.  I maintained my strength throughout the fat loss phase of my program, and the bulk and relative lack of caloric density in plant-based foods made the restrictive diet much easier to manage.  I was rarely hungry.  I had been a meat eater when preparing for past contests, and subsisted largely on tuna and chicken breasts.  The greater variety of veganism made for a more satisfying and certainly more healthful diet. 
The results speak for themselves.  I endorse Derek as a trainer, especially for those who are eager to maximize their personal fitness through regular exercise and a healthful, plant-based diet.
Todd Berry
Before: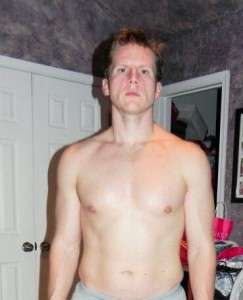 After: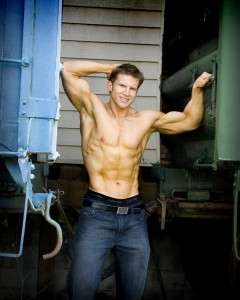 I never thought I was the type that would benefit from a personal trainer. As a former competitive athlete, now turned physician, I thought I knew everything I needed to know regarding proper training and a healthy diet. Boy was I wrong! Over the past year and a half Derek has taught me many different aspects of these areas which have drastically changed my life.
I originally started training with Derek after my wife bought me a short term package as a Christmas present. After the first session I was hooked and have been training with Derek regularly ever since. His personal training style is engaging, focused, and motivating. His knowledge of plant based nutrition and its health benefits is remarkable. Derek has worked with me to make the necessary changes to what I previously thought was a clean healthy diet. These changes have allowed me to far surpass any fitness goals I could have ever imagined. In the past year and a half I went from the worst shape of my life to winning 2 Gold's Gym fitness challenges and competing in 2 natural bodybuilding contests; earning a second place finish in my first ever competition. Additionally, I have since had opportunities participating in both fitness and fashion modeling. I am currently in the best shape of my life and more energetic than ever. I am also pleased with knowing that, in addition to the amazing short term benefits, the long term benefits of exercise combined with plant based nutrition set the stage for a long healthy life with markedly decreased risk of cardiovascular disease, diabetes, and cancer (three of the leading worldwide health care costs and concerns).
As a physician, I focus on the health of many patients every day. Derek has helped me balance that energy to include my own health. The time and energy invested in those changes are well worth the effort. If there were more Dereks out there influencing Americans, there would be much less disease in the United States, and I would have much less business! Thank you Derek!
Todd M. Berry, M.D.
Karen Getty
Unfortunately, we had to remove some really awesome transformation pics of Karen due to copyright issues. 
If you had told me a year ago that I would drop 22 lbs. on a vegan diet, I would have called you crazy. Alas, that is indeed what happened. I knew that my soon-to-be trainer was vegan, but little did I know that he expected me to be one too! When I signed on to train with Derek Tresize, it was business from the get go. Right away he laid out the four food groups – whole wheat, fruits, veggies, beans/legumes – and it wasn't necessarily presented as an option. He told me that he expected his clients to follow a plant-based diet. Not only did we discuss eating vegan, but in order to drop some those first stubborn pounds he put me on a Monday, Wednesday, Friday raw fruits and veggies diet. Aghhhhh! In addition to my rigorous new eating habits, we discussed my fitness routines. He was very interested to know what I liked – heavy lifting, cross training, circuit training. He was also very interested in creating a workout plan that could realistically fit into my life – a full-time working, single mom.Derek is so passionate about educating people on good nutrition and he was more than generous with me by sharing recipes and ideas for my day to day meals. I did not feel like I was on my own. Derek had me keep a food journal, which he graded once a week (with a red pen!) when I saw him for our workout session. That really held me accountable for what I was eating! Throughout this process I learned so much about food! I learned that vegan meals can be awesome, warm and filling. I learned that even on a vegan diet, you still have to be selective b/c it's not all healthy.
Overall, I just feel like I have better understanding of what my body needs and how to fuel it. Throughout this process, I started to realize that eating vegan was not a chore, but it was actually delicious! There, I said it. To give you an idea of how much this diet transformed my body – I lost about 10 pounds in the first two weeks, my skin improved, my energy levels went up…..I just felt great. Now, here I am, 22 lbs. lighter. I have received a priceless education on nutrition and health and to top it all off Derek has provided me with an arsenal of workouts that I plan to use. Although I was very successful with this challenge, staying healthy and fit is a day to day battle. I had my share of hard days throughout this challenge….it was not easy and I had little slip ups along the way. One of the most reassuring things Derek said to me was "you may lose some battles but that doesn't mean you lose the war." That is what I tell myself on those bad days – I try not to lose sight of the overall war by obsessing over a lost battle. Thank you Derek for helping me to win that 12 wk battle and for giving me the tools to keep fighting.
Sincerely,
Karen Getty
Max Seabrook
Before: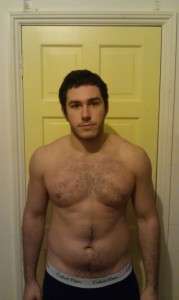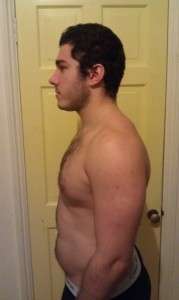 16 Weeks Later: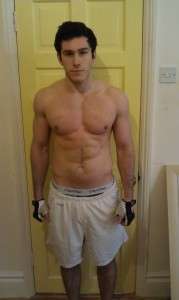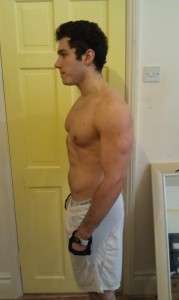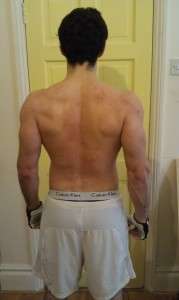 I turned vegan in late 2011 for ethical and health reasons. I was also in the midst of trying to get back into shape because I'd kind of let myself go and I'm the type of guy that easily puts on body fat. I was having a bit of success because I'd known about fitness for quite a while but being vegan really put a spin on most of my conventional ideas. I was a bit lost at the start and mainly just drinking obscure vegan protein shakes a lot. I was losing faith in vegan bodybuilding but then I saw Derek and thought wow so it is possible! Then I found out this guy could be my personal trainer and it reinvented my enthusiasm for fitness. Derek really helped me out by shaping my workouts but most of all his wealth of knowledge on plant based diets. Each week my diet became cleaner! I can now say I'm a 'whole-foods' vegan thanks to Derek. And as you can see from my pictures I've had a huge success.
I thought I was enthusiastic about fitness but Derek is amazing! Whenever we have a consultation he's always really energetic and motivational, I swear the guy is always 100% go. That kind of attitude can really pick you up and motivate you if you've had an off-week in the gym.
Max is now a certified personal trainer with us. Read more about him here.
Erik Rapprich
Working with Derek has changed my life.
In November of 2011 (at nearly 240 pounds), I became a vegan.  While I lived a meat-free life, I didn't lead a very healthy one.  I made the commitment to lose some weight and initially had great progress (even though I was eating mostly processed food and next to no vegetables).  Eventually (thanks to working long hours, not sleeping enough, and over-exercising) my progress stalled.
One night, I stumbled upon Forks Over Knives on Netflix and 2 hours later decided that I needed to do something to improve my health as well as my fitness.  After some research online, I found Derek and was fortunate enough to take part in his first remote group training session (Team Gazelle), and I couldn't be more satisfied with the results.  The people were amazing, the resources abundant, and the progress (of everyone) was inspiring.  In addition to feeling like I had access to a trainer of the highest quality, I was also surprised and encouraged to know that Team Gazelle provided me with a customized diet/training plan and a network of support.
Since I went vegan and started taking my training and diet seriously I've lost 80 pounds, run my first marathon, and discovered a whole new level of mental clarity and sustained energy. If these are the types of things you are looking for (and if you're willing to put in the work), I have no doubt that Derek is the best person out there to show you the way.