The Biggest Vegan Bodybuilding Event Ever!
on
February 25, 2013
at
2:08 am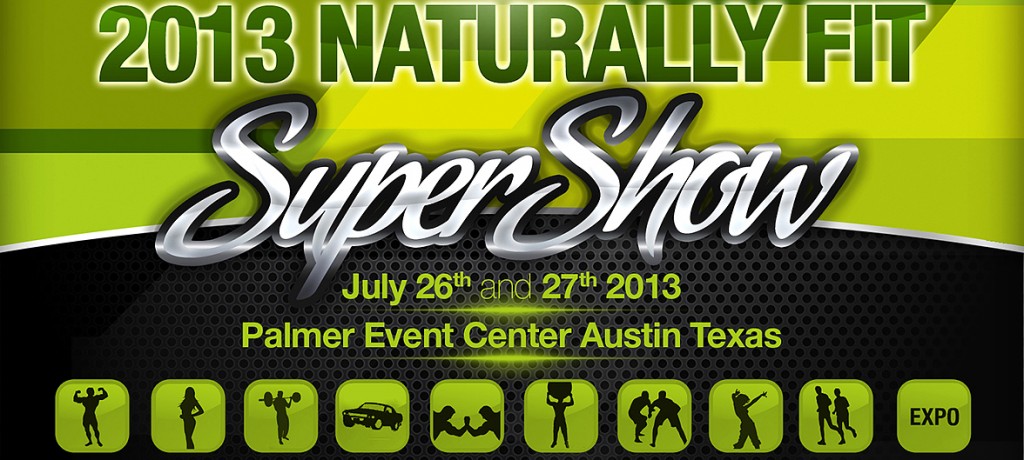 Marcella and I have been in heads-down training and working mode recently so we haven't been posting as much as we should, but I wanted to update everyone on one of the things we're currently preparing for – the biggest vegan bodybuilding event ever! A big group of vegan physique competitors are all competing in a show together this summer: The Naturally Fit Super Show in Austin Texas on July 26th and 27th! There will be at least 20 vegan competitors meeting up and competing in bodybuilding, physique, figure, and bikini so the entire spectrum of physique athletes will be represented, and the event will be covered by Vegan Health & Fitness Magazine! Obviously we're really excited and are training like crazy to make a good showing at such an awesome event! Here's what we've been up to:
Derek: Nutrition – Since coming in with too much body fat hurt my placing at my last show, my main focus this off season has been gaining as much muscle as possible while staying pretty lean (<10% body fat). I generally don't worry about my body fat or dieting strictly unless I'm about three months from a show, but this time Marcella and I have both been tracking nearly every meal, eating cleanly, and I've been sticking to doing cardio twice a week whereas I normally don't do cardio until I'm in contest prep-mode because weight training 5 days a week keeps me fairly lean. The results have been great thus far! I'm weighing in at 192lbs and am hovering between 8 and 9% body fat, which is probably the leanest I've been at this weight! My goal at the beginning of the off season was to get back to 200 lbs by April 1st without exceeding 10% body fat, but it looks like I may come in a little short of that. If my last contest taught me anything though, it's that conditioning wins every time – so as long as I'm not gaining fat I'm happy! I also want to give a BIG thanks to VeganProteins.com and PlantFusion for sponsoring us during our training – you guys are the best!
Training -wise I've increased my lifting frequency from once a week per muscle group to working each group every 4-5 days; check out my routine here. My favorite and most productive routines in the past involved working everything twice a week, but that invariably led to injury as well. So far I'm making great progress on everything but chest work (I've had a nagging shoulder impingement for a couple months so no benching) and no new aches/pains are cropping up! I attribute this in large part to our awesome massage therapist Lindsey Scott doing some painful deep tissue work on us twice a month – if you're in Richmond you need to try her out! Here's a recent video of a quick posing practice:
Marcella: Training – I've been helping train Marcella for this contest, and since she is starting from a postpartum/nursing/light training schedule, our focus for her has been gaining as much muscle as possible before strict contest prep starts, while still improving body composition. To accomplish this I've been updating her routine in 4 week phases, with each phase getting progressively more intense and having slightly different objectives. Her first phase was just geared on getting her back into a body building routine of training 5 times a week, as well as gaining as much strength as possible so the focus was on compound moves for lower reps with maximal weight, and striving to improve the weights every week. Since then she's gone through two more phases, the second one being similar to the first (listed here), but with added volume (sets/reps) and a few more exercises. Her current program is backing off of the low rep focus and transitioning more into volume and conditioning by adding super sets, increasing reps and decreasing rest intervals. She also has had back pain on and off, so we're using the current phase to take a few weeks off of squatting and deadlifting.
For cardio I started Marcella off with a light one hour per week at 140 BPM, broken into 2 or 3 sessions as fit her schedule. We've more than doubled it so far, and each phase we will be increasing both the volume and the intensity of cardio by adding more total workouts for more time, and making an increasing portion of them High Intensity Interval Training or metabolic conditioning circuits. An important objective of everything we're doing is to speed up her metabolism by gaining muscle, working out quickly and very intensely, and eating as much clean food as possible without gaining body fat. This is really important because when the time comes to focus only on getting leaner, the faster her metabolism is the easier everything will go.  The results so far have been excellent. Marcella has maintained her body weight while dropping over 6% body fat and increasing her strength across the board. This means that she's also gained about 8 lbs of muscle in only a couple months of serious training!
Nutrition wise Marcella has been drawing us up some great meal plans that are progressively cleaner but still hitting the macros we're after. One of our most recent ones is listed in her post here, and members will be able to find them all in our Member Portal!