Summer Squash and Corn Chowder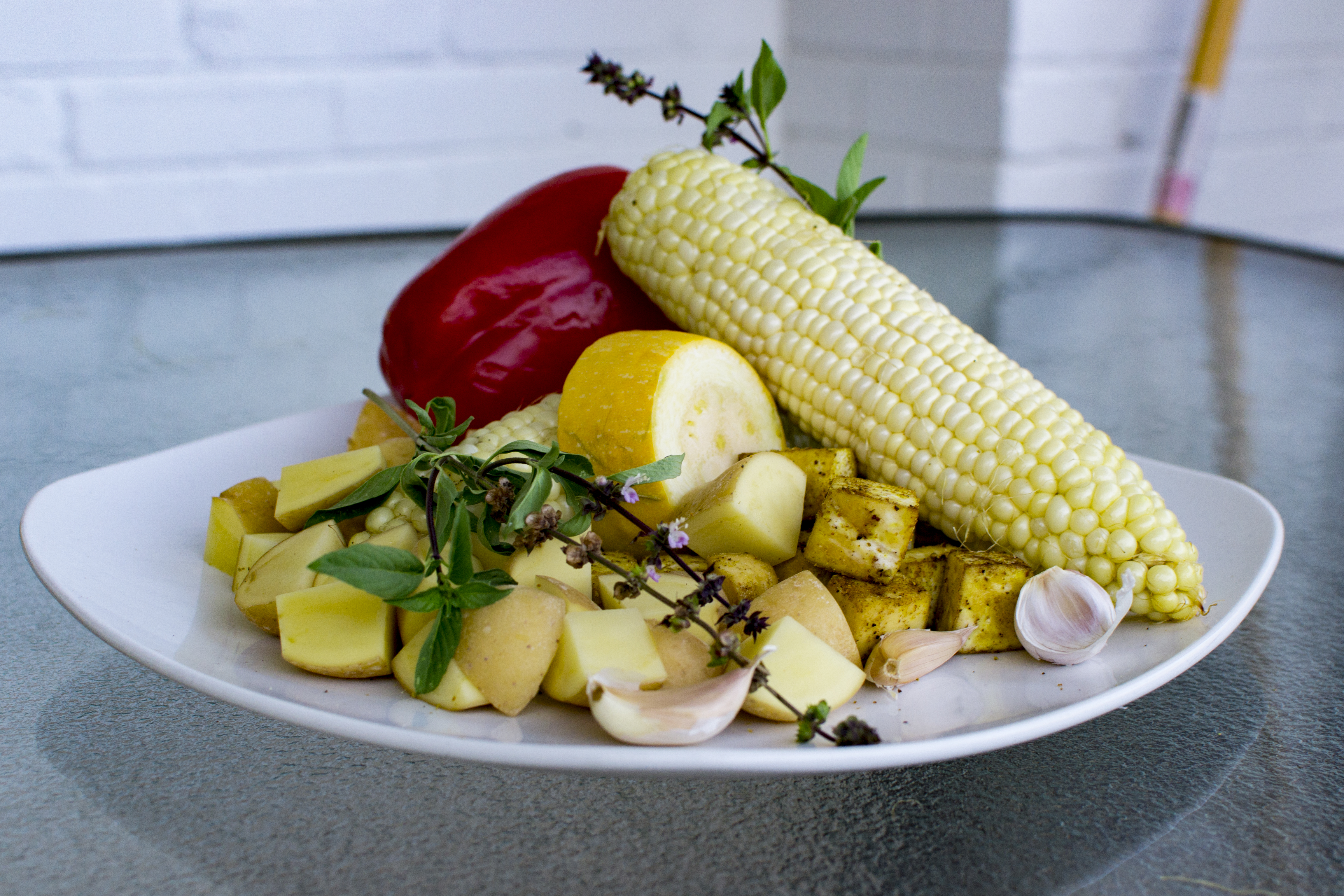 Who says you can't have a chowder in summertime?! The key to creating a summer soup that packs a punch of flavor, as well as that familiar comfort we experience in winter is incorporating fresh elements such as garden herbs like basil, thyme, and scallions.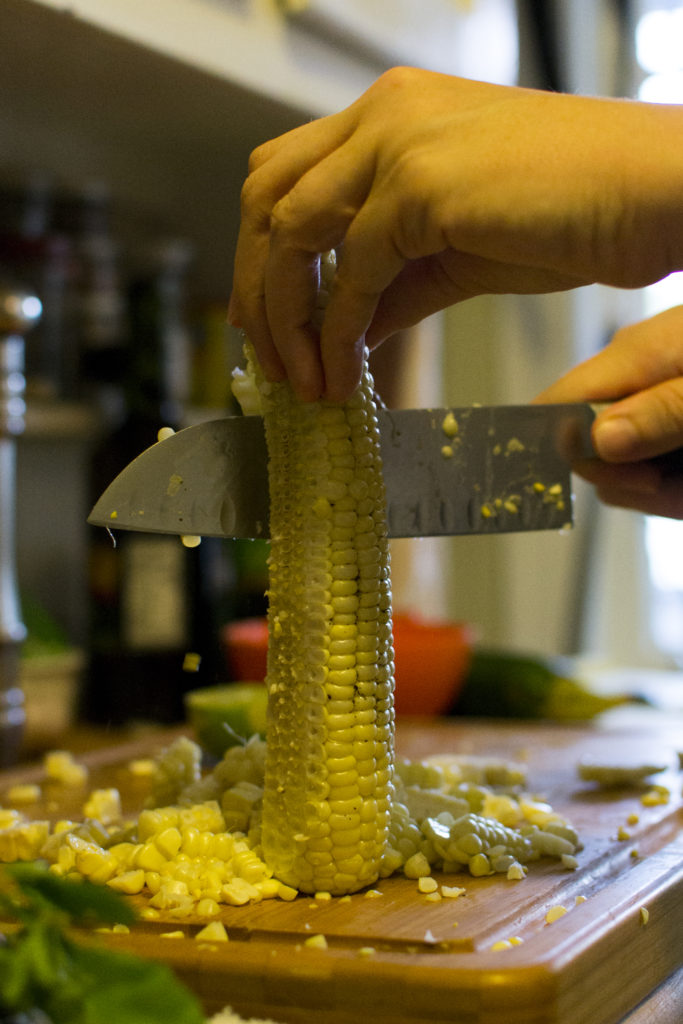 Another way to bring in freshness to a hot dish in summer is to create some sort of raw topping like a relish, gremolada, or other condiment to garnish with at the very end after plating. Here is an oil-free, low fat take on one of those very dishes. Enjoy!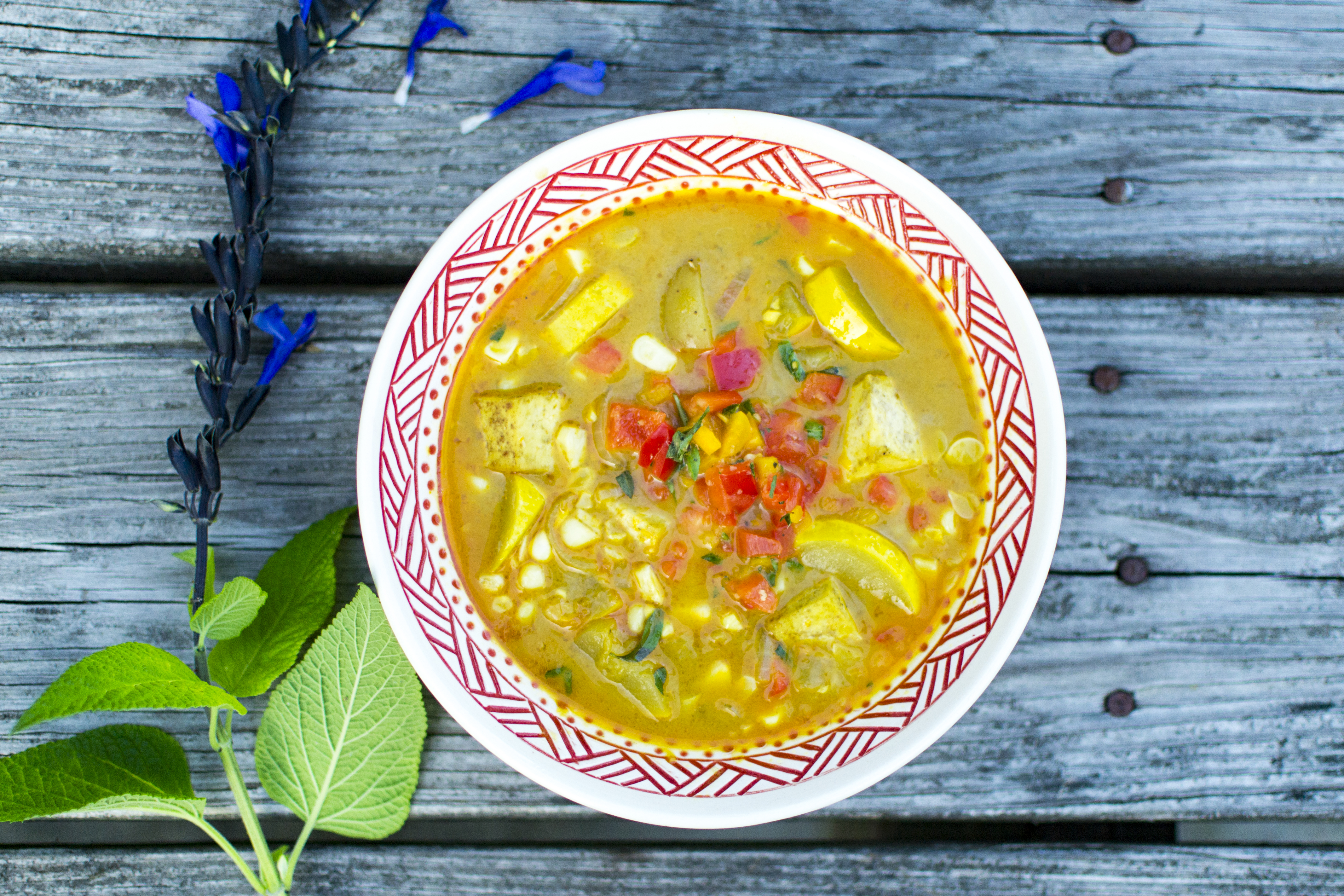 Preheat oven to 375 degrees. You will bake your tofu and corn at the same time ideally, although the corn takes an additional 5-10 mins to cook, so it is at your discretion to put it in right when the tofu goes in or after so they come out at the same time.
Ingredients:
1 pkg Extra Firm Tofu cubed into about one inch pieces
Spice rub:
1/8 tsp coriander
1/2 tsp curry powder
1/8 tsp allspice
salt and pepper to taste
4 fresh corn on the cob, shucked
4 aluminum foil squares
1 large sweet onion, quartered and thinly sliced
2 yellow squash quartered and thickly sliced
4 medium sized yellow potatoes, diced into one-inch cubed, skin on
4 cloves garlic, minced
1 can light coconut milk
4 cups vegetable stock
1 tbsp curry powder
1/8 tsp allspice
1/8 tsp cardamom
1/8 tsp crushes chili flakes
Relish:
1 large sweet red pepper
1 inch piece fresh ginger
4 leaves Thai basil
juice of 1 lime
salt and pepper to taste
Toss cubed tofu in spice rub and bake on cookie sheet with a minimal coating of cooking spray (just the briefest second on the sheet to minimize fat).
Bake on 375 for 20 mins and remove from oven.
Wrap shucked and seasoned corn cobs securely in foil and bake in the oven at 375 for 25-30 mins. Cook times vary based on oven's heat. Note: overcooking corn can make it chewy, so you may want to check it at 25 mins. Once corn is cooked and cooled, use sharp knife and shave all corn kernels off of cob and set aside.
In a large soup pot, sweat onions on low heat to avoid sticking as we are not using oil. Once onions are translucent add garlic and sautee for two minutes, then add squash and cook for an additional two minutes. Add all remaining ingredients and simmer on low to medium heat without boiling stew and let cook until potatoes are tender.
For relish:
Finely dice peppers and put in small bowl. Use a microplane to finely mince fresh ginger into pepper mixture. Finely chop Thai basil and add to mixture then squeeze lime juice and add salt and pepper and mix to incorporate. Use as much or as little of this on top of your bowl of chowder as you like, although I tend to use about a tablespoon per bowl.
This delicious whole foods, plant-based recipe should make 8 servings, depending on how hungry you are.
This recipe comes from the family of our admin, Danielle Ahart Nelson – a future local vegan restaurant owner and talented musician who, fortunately for us, is paired with another talented cook and photographer, Ben Nelson! Yay! More from them to come!