The First Annual 'Vegan Olympia' At the Naturally Fit Super Show!
on
August 4, 2013
at
2:09 am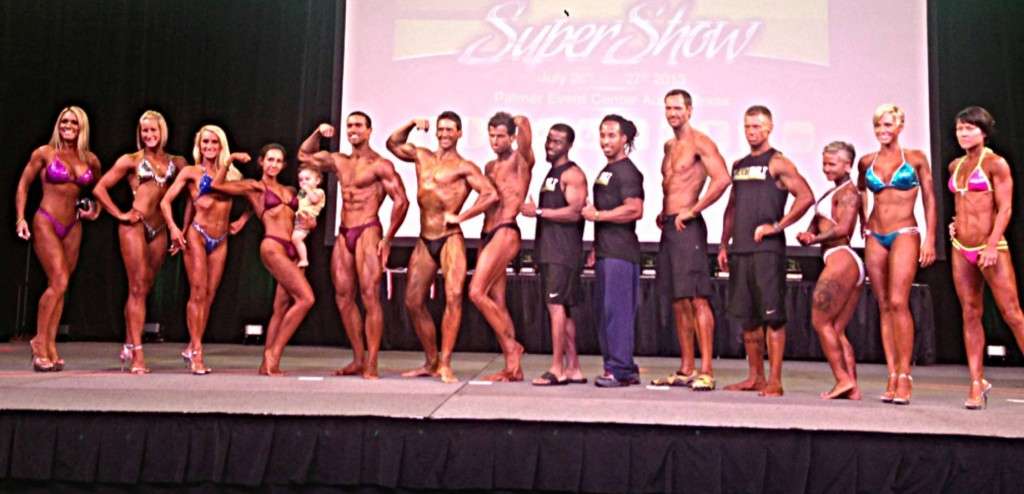 We're back and catching our breath after competing  in Austin, Texas at the Naturally Fit Super Show – and it was a blast! Austin is a beautiful city with wonderful food, the event was a smashing success, and whenever Marcella and I spend time with groups of fellow vegan athletes we are always amazed and humbled by what motivated and inspiring people they are. As you can see in this write-up, the entire Plantbuilt team did extremely well, with 4 of the nine overall finishers coming from our group (Plantbuilt was represented in 7 divisions of the 9), and almost every other athlete placing in the top 3 of their respective classes – including 5 first places and multiple second and third places, even in two classes which had over 20 total competitors! See the results here and a fun write up/video here. It was truly an epic weekend for the promotion of veganism through athletics, and not only did we answer the question of whether or not a vegan diet is competitive in a bodybuilding arena, we demonstrated that it can be superior! By Saturday night there were many omnivorous athletes left scratching their heads and wondering how they lost to the vegan team! 
Those of you following us on Facebook probably saw that Marcella placed second in women's lightweight and I placed first in men's light-heavyweight (woot!), and that I had the honor of posing down with fellow vegan competitor Torre Washington for a WNBF Pro Card in the overalls (Torre won it, and I couldn't be happier for him). Check out our posedown video below – we had a blast out there! If you notice any unusual camera motions, please keep in mind that Marcella was trying to catch all the action on film AND wrangle an unruly 16 month old – no easy task! Miles actually did phenomenally well, and using his special brand of bashful charm managed to hit it off quite well with all the bikini and figure competitors in the group

. This was without a doubt the best time we've ever had at a bodybuilding contest and we can't wait until next year to do it again. The combination of a well promoted and efficient venue, a deep field of strong competitors, having friends to root for in almost every class, and having tons of familiar faces screaming their heads off in the stands when it's your turn to be up on stage really made this show something special, and it will be a hard one to top!
The judges from the contest were kind enough to email us each our critiques after the show, so we now know where to focus our efforts for next year's event and are back in the gym with a renewed vigor! Also, after receiving our score sheets we saw that Marcella's posing routine (posted below) scored an 8 out of 10! If this show had offered a best posing award I have no doubt it would have gone to her! I am so proud of the work Marcella put in to prepare for this contest – I saw first hand how difficult it was being a nursing mother and business co-owner (who am I kidding, she does all the work!) also in the extreme final stages of a contest prep! She deserves a ton of respect and I'm extremely happy we were able to nail her target weight and bodyfat we had set at  6 months out!

And the fun didn't stop after the show either. Once the serious business was done we all heartily indulged in such treats as ice cream, bacon cheese burgers, deep dish pizza, cup cakes, cheesecake, and barbecue (all vegan of course!) from the many delicious vegan restaurants Austin has to offer, as well as a great workout and party at Bonebreaker Barbell's place! For a great behind the scene's story on how it all went down from our perspective, check out fellow competitor Sara Russert's post on Veganproteins.com!
It was truly a unique event and I hope to see more competitors and fans every year from here on. And now, a special thanks to our sponsors! Vegan Proteins, for supporting all the athletes and for organizing this event in the first place! Plant Fusion for generously supplying us with protein to fuel our pre-contest training. Beyond Fit and Bonebreaker Barbell for having awesome vegan gyms in Austin where we had some great workouts and photo shoots. Vegan Health and Fitness Magazine for covering the whole event. Vegan Bodybuilding & Fitness for bringing us all together, covering the event and giving gifts when possible

. Alana from Beyond Fit for getting TONS of goodies for us from lots of vegan companies she contacted. Skinny Limits Raw Juices for hooking us up at the show (especially Miles!).  Capitol City Bakery for all the post-show treats! And WNBF Pro Joe Hartfelder for all the great posing and peaking tips! There were many other great people and businesses to thank here, we were truly feeling the love and support – thank you all so much! And now, courtesy of Vegan Health & Fitness Magazine, a complete contest recap of Team Plantbuilt killing the stage!