Check out Derek's recent article for One Green Planet, Protein in a Plant-Based Diet: A Vegan Bodybuilder's Perspective!
We've taken a bit of a break from posting (and pretty much everything else)  following the birth of our son Miles a month ago. Originally I envisioned us catching up on things like that as our baby slept peacefully…as newborns reputedly do a lot. Not this guy! Maybe it's his healthy heritage, maybe it's his current diet of plant-based breastmilk, but he's been alert and energetic since day one. Just check out this pic of him at his first pediatrician's visit 4 days after being born at home: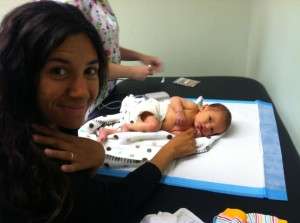 Since birth his eyes have been able to focus on and track objects, and at one month he's already vocalizing a lot and grabbing things – very unusual for a newborn! I'm curious to see if some of our other healthy vegan friends who are expecting notice similar traits in their newborns – or have any of you noticed this sort of thing?
Alright, I'm done gloating! Expect more posts from us in the near future as we get back into the swing of things: I have some recipes to post on and we'll be doing the vegetarian festival circuit again this summer.