Perfect for fall and fancy enough for parties, these beautiful rainbow rolls are a great way to get an abundance of beans and greens!
Stuffed Rainbow Chard Rolls
plant-based recipe contributed by Danielle Ahart Nelson
Ingredients:
1 cup dried French lentils, rinsed well
4 cups vegetable stock
1 fresh bay leaf
4 sprigs fresh thyme
salt and pepper to taste
1 cup brown rice
2 cups water
1 large sweet onion, quartered and thinly sliced
2 celery stalks, finely diced
1 sweet yellow pepper, finely diced
1 sweet red pepper, finely diced
2 cloves garlic, minced
1 tbsp balsamic vinegar
1 tsp agave nectar (optional but delicious)
6 leaves rainbow swiss chard
Preheat oven to 350 degrees.
In a medium sauce pot, bring vegetable stock to a boil and add lentils, bay leaf, and salt and pepper and let simmer until lentils are tender. Take off heat and drain off excess liquid and remove bay leaf.
In another medium sauce pot, bring water to a boil and add brown rice, reduce heat to low and cover. Cook rice for 20 minutes or until cooked through. Set aside.
While rice and lentils are cooking, slow cook onions in sautee pain in balsamic vinegar and agave until onions have caramelized, approximately 20 minutes, then add remainder of vegetables and cook until tender. Remove from heat, incorporate fresh thyme off the stalk and add salt and pepper to taste. Add vegetable mix to lentil and stir well.
Rinse chard well and remove the stems of chard delicately with a knife to create long pieces as seen in photo. Prepare ice bath in large bowl (just a lot of ice and water, but leaving room for the chard leaves after blanching). In a large sauce pot, bring six cups of water to a boil and blanche chard for 30-45 second and quickly remove from water and place in ice bath.
Now it's time to roll!!!
Lay chard leaved out on flat surface carefully, so as not to tear them. Place a tablespoon of lentil mix and a tablespoon of rice on each leaf and roll from the mixture side of the leaves tucking in the edges as you roll. Place on un-greased cookie sheet and bake for 10-15 minutes until chard is slightly crispy on top. Remove from oven and plate.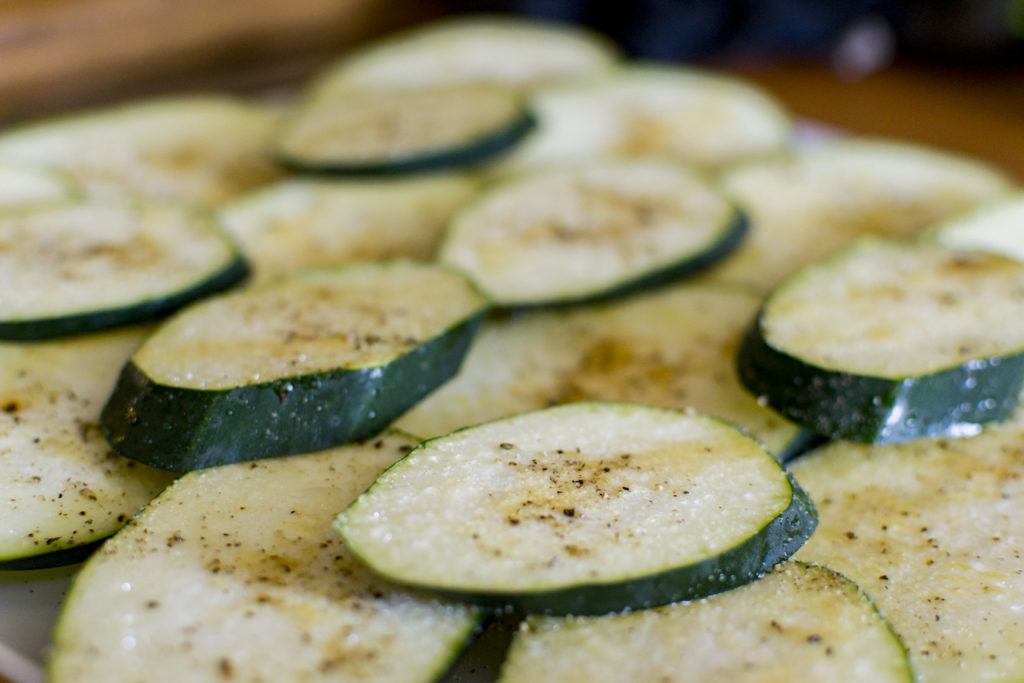 Grilled Zucchini
2 zucchinis
salt
pepper
garlic powder
1 lemon
Slice zucchini on an angle as seen in photo and season at your discretion. Use grill pan, heated on medium-high heat to sautee on both sides of zucchini until you have nice grill marks. This should take about three minutes on each side if pan is nice and hot. Serve on plate with chard rolls with a squeeze of lemon and enjoy!