We love dessert as much as the next people. Maybe even more. And we're fortunate (or unfortunate) to live in a city with many vegan sweet options available. In fact, after our July bodybuilding competition we went a little nuts with the pastries, donuts, and truffles that are freely available in just about every coffee shop in Richmond because that was the only way to indulge a sweet tooth mutated into a ravenous beast from months of contest dieting – we barely kept even fruit in the house as we tried to ease restricted foods back in to our daily diet. Bad idea.
There's nothing wrong with a little oil-free, refined sugar-free indulgence from time to time. I think to do so tames the wild sugar-beast, because since we started eating more frozen banana "ice cream", tofu chocolate pudding, and  flour-less pumpkin pie my cravings have disappeared – and I lost the 1% extra body fat I'd gained. And, I'm proud to say, our son Miles often turns up his nose at sweets that are not whole foods, like fruit, so making and eating these cookies with him was a special pleasure.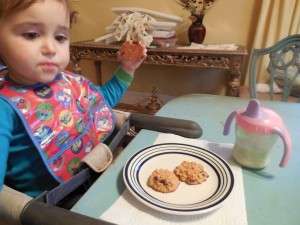 These cookies are an adaptation of a recipe from Isa Chandra Moskowitz of Post Punk Kitchen; I replaced sugar with less maple syrup, flour with brown rice flour, oil with peanut butter (I used reduced fat Better Than Peanut Butter), and added a few dairy-free chocolate chips.




Pumpkin Oatmeal Cookies (gluten-free option)
makes about 24 cookies
1 cup brown rice flour

3/4 cup rolled oats, gluten-free optional, with extra in reserve
1/2 tsp baking soda
3/8 tsp salt
1/2 tsp cinnamon
1/4 tsp nutmeg
1/2 + 1/3 cup maple syrup
1/3 cup nut butter
1 cup pumpkin
1/2 tsp vanilla
chocolate chips (use grain-sweetened if you want NO refined sugar) or raisins, optional
Preheat oven to 350 degrees F. Mix the first 6 dry ingredients together in a small bowl. Mix the next 4 wet ingredients together in another bowl. Add wet to dry and mix. If the dough is a bit runny, add more oats – I ended up adding around 1/3 cup more oats. Add chocolate chips or raisins if you like.
Bake for 14-16 minutes. The cookies will be crisp for the first day, but once stored overnight in a container they soften up BUT are still pretty fantastic!