We've just returned from meeting up with the Plantbuilt team of vegan athletes! There are so many great recaps of the event (32 medals, world record broken, one pro card earned and multiple first placings) all over the internet right now:
so we're just going to share our experience through the images below with some brief reflections and plans for how we're getting ready for upcoming shows!
Derek took second place, his SECOND second placing in a pro show. Obviously, he wanted to win, but to beat out seven other pros (six of them non-vegan) is no small feat! You can read about how he prepared for this competition here but the short story is with a lot of whole food carbohydrate and only a short diet.
The next big show, to maintain his WNBF pro status, is planned for September in New York. I think currently the WNBF has only a couple of pro physique shows per year, so we're kind of limited in our choices! I still recall schlepping Miles across Manhattan at 8 months pregnant last year to watch him take second in his first pro show!
Also planned is an NPC show in the Classic Physique division in Richmond this August. This one is just for fun, given that it's not a drug-tested event and therefore very difficult for a natural athlete to be competitive in!
I (Marcella) had a more complex experience: I had no expectations of placing in this competition, I knew I needed a lot longer time frame to get lean enough, but participated anyway for the experience.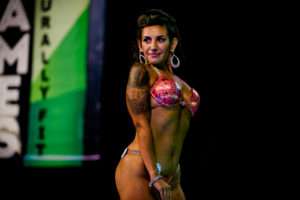 I learned a lot in a supportive environment, so I'm glad I did. One of the interesting takeaways for me, from this prep, was that as our bodies change over time the same inputs can produce different results. I plan a longer post to go into the details, with more "unflattering" stage pictures of the sort no one ever shares. Essentially, I employed the same strategies that have worked in the past (and I have 5 years of caliper measurement records to prove it!) that we detail in our book but experienced a long plateau that started right around the time that I stopped nursing my daughter (i.e. my milk dried up when the diet got hard).
So I dieted harder, I did all the HIIT and metabolic training, and steady state cardio humanly possible  – basically emptied my whole bag of tricks trying to at least get to my modest target for the competition, and my body was not having it. My weight fluctuated wildly, my hair fell out, my nails got brittle, and I started bruising easily. That all sounds crazy, but it's been a familiar signal through the years of pregnancy and nursing that my lady hormones are transitioning from one state to the next. That timing though…It's been a real lesson in just how influential hormones are in these muscle gain and fat loss endeavors.
Anyway, my real show target this season is that same NPC show that Derek is competing in in the true novice class. I still have no expectations of placing and think this show will have more of a circus-type atmosphere than that of a natural show, frankly! It's just local and helps give me a goal to reach before the off-season. I need a greater distance from maternity to really get stage ready (I have my fingers crossed that this loose belly skin will magically tighten up by next season)!
Here's a link to our Plantbuilt highlights album!