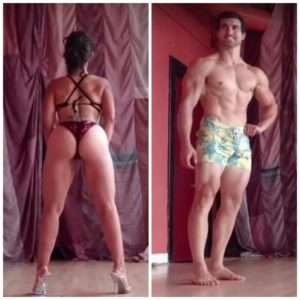 Yes I know, we've been terrible about posting progress updates – sorry! We've been posting more often on our Intagram (@veganmuscleandfitness) and Youtube feeds, but for some reason haven't kept up as much with blogging. We are now ONE week away for our next appearance on a bodybuilding stage at the Naturally Fit Games in Austin Texas, and we're honored to once again be competing alongside the rest of Team Plantbuilt to show the world what can be achieved with a compassionate diet. Needless to say we're getting very excited to get back on stage, see our friends from all over the world, and have some epic post-comp food! Annnnnnnd since we're a week out and in the dregs of our contest diet, we're also pretty tired and hungry. Did I mention there's going to be some epic post contest food??
Below is a video we shot of some of our dieting strategies and workout clips from a couple weeks ago, and if you've followed any of our contest preparations in the past or read our Book you'll see we're using the same basic strategies: Build your metabolic rate off season, cut calories slowly, add cardio gradually. This approach takes time, but it makes the process a lot more comfortable and you're less likely to shed a significant proportion of the muscle you're working hard to display onstage.

For some rough details on the changes we've made (for those of you who like numbers!):
I began about 14 weeks prior to the show at about 4100 calories per day, lifting 5 days per week and doing cardio about once per week. I've since progressed down to 2700 calories per day, still lifting 5 days per week but also doing cardio about 5 times per week. My macronutrients have changed from 155/700/90 grams of protein/carbs/fats per day to 185/400/50 grams p/c/f per day, and I've adjusted downward by about 300 daily calories each time I dropped them. As you can see, my fat and carbohydrate intake has been cut almost in half, but my protein intake has actually increased to further prevent muscle loss. This has been a pretty painless drop from 193 lbs and 8% bodyfat to 185 lbs and about 4% bodyfat, and I didn't really start to notice feeling tired or hungry until I hit about 3000 daily calories, poor me and my whole-food-plant-based metabolism!
Marcella is trying her hand at bikini competition this time around, and she's doing great! She's much (much, much) more analytical and type A than I am so she's been spending all her free time researching contest suits and bikini posing while I climb trees, and she's also been following the programs illustrated in Bret Contreras's book Strong Curves, and making mad booty gains! I'm proud to say she's hip thrusting 200 lbs for reps now, which means she'll be out-lifting me soon! Marcella has a much ore stubborn metabolism than I do, plus a nursing toddler, so her diet has been a bit more aggressive, but we've still follows the same steps of gradual drops until progress slows, and she's made an excellent transformation.
She began her diet at about 2400, after reverse dieting up to that point during her pregnancy with our Maxine. Once Maxine turned 6 months old Marcella did a slow diet down to 1700 calories per day and hit around her pre-pregnancy weight with ease. THEN we decided we'd jump into this competition, and so her diet continued on from that point (she never rests)! Her macros have dropped from 80/255/40 grams of protein/carbs/fats to 100/100/30, which is a drop from around 1700 calories per day to about 1100 calories per day, along with regular increases in cardio. Even at a gentle pace and with about a 6 week break in the middle, this is a longer time to run a deficit than we recommend, and once we're done with this competition season she'll be taking time to build her metabolic rate back up to a healthier level by steadily increasing calories.
You can have a look to see if our hard work has paid off below, in our posing practice video from last week. Keep an eye on our social media feeds for contest updates this weekend, and wish us luck!