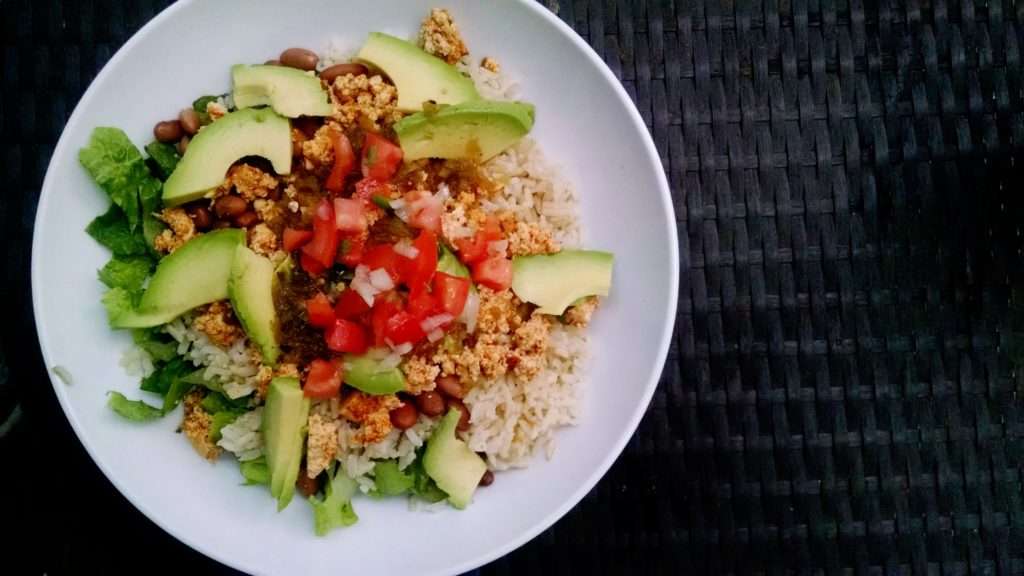 Well. it's not really a recipe – rather a guide, because it's so simple. And fortunately, someone else did most of the work to uncover the mystery of the Chipotle sofritas sauce – I just tweaked it a bit to make it oil-free and with just the right amount of heat.
Here's the breakdown:
I use this recipe, with the following modifications:

omit the oil
reduce chipotle peppers in adobo sauce to one pepper…I like spice, but with two peppers I couldn't even eat it
add only 1/4 cup water to the sauce total
braising just one package of mashed regular extra firm tofu in the sauce – not the expensive super firm variety. I use a potato masher to break the tofu up.
I put everything into the food processor at once instead of in stages – it makes no difference
I use 1/4 of the tofu recipe in a giant salad bowl full of brown rice (about 1/2 uncooked cup – cooked), shredded romaine (1/2 a heart), pinto beans (1/2 a can), corn (1/4-1/2 cup), avocado (1/4-1/2), and green salsa…and it has all of the Chipotle flavor and no oil.
You can make it lighter, say for lunch, by omitting the rice and making it a salad bowl instead!
Makes 4 bowls!
Follow us on Instagram for more vegan recipes and recipe hacks!