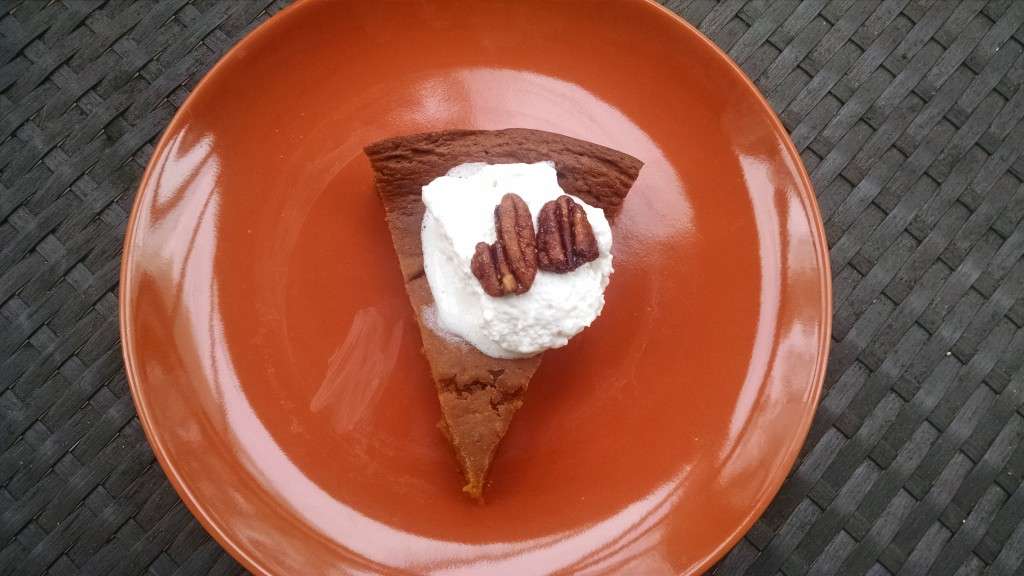 Pie crust, although delicious, is often what turns an otherwise healthy fruit pie into a gut bomb of fat. This is the most recent update to a pumpkin pie recipe I've been sharing here for years – so far, it's been the firmest, most delicious incarnation of all! And the best part is that it's mostly pumpkin, so eat as much as you want!
Ingredients
1 1/2 cups plant-based milk
2 tsp baking powder
1 tsp baking soda
2 Tbsp brown rice flour or gluten-free flour blend
1 tbsp. cornstarch, potato starch or tapioca starch
1 tsp. vanilla
1 can pumpkin puree
1/2 cup brown rice flour or gluten-free flour blend (I used Trader Joe's)
2 tsp. baking powder
3/4 cup sugar
1/4 tsp. ginger powder
1 tsp. cinnamon
1/2 tsp. nutmeg
1/4 tsp. ground cloves
1/2 tsp. salt
Preheat oven to 350. Use a 9-inch silicon pie pan or spray a 9-inch pan lightly with cooking spray.
Add the first 6 ingredients to a blender and blend. Add the remaining ingredients and blend.
Pour into the pan and bake about 1 hour.
Let cool, slice and serve! We enjoyed ours with some So Delicious coconut whipped cream and a few candied pecans for extra flair, but it's also fantastic plain.